Clear Underwater Video with GoPro Hero2
If you want to shoot crystal clear video with your Hero2, you'll need to but another accessory but it is well worth the money.
I mainly use my Hero2 above water for still shots and video. Occasionally it will bob underwater but we are talking fractions of a second here.So with that kind of shooting I was oblivious to a problem of shooting underwater.
And what was that? Well one day I did do some shooting underwater – afterwards I plugged my memory card into my PC to retrieve the photos and I found they were all out of focus. What's going on here I wondered? A bit of time and research later I discovered that the curved dome on the case of the Hero2 was the problem. I needed to buy a dive housing to get that clear shot.
Damn – more expense. I had spent so much on bits and pieces for my Hero2, Anyway, I took the plunge (no pun intended) and bought one.
Here's what it looks like:
As you can see, part of the front cover goes across part of the the display screen area but the most important info is almost always on the left of the display so it's no real drama (see pic below)
How good is the quality? And how is it compared to the standard case? I was going to shoot some comparison shots but I found a video on YouTube that compares the two side by side. As you will see, out of the water there is no difference in quality. It is when the video moves underwater you will see the difference.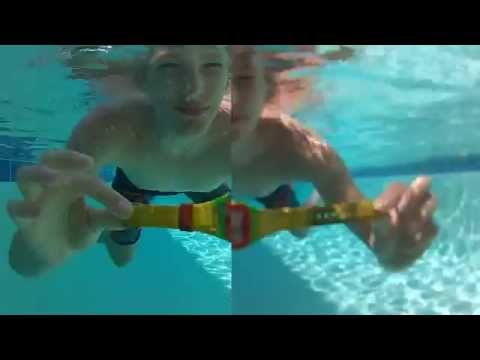 If you want to buy one they are hard to find as GoPro do not sell them anymore. I found that they are still available from Amazon (link below), and they seem to have plenty in stock:
How have you found the dive housing? Happy with the quality difference? Leave a comment below.
Buy GoPro Dive Housing for HERO/Hero2 Cameras from Amazon