GoPro Camera Lessons
What resources do you have when you first get your camera? How do you learn? You're not alone, but it's good to know there are plenty of others like you.
So you have bought your camera – no doubt you have a pretty good idea what you want to do with it (otherwise why did you buy it?), but how do you use it properly – or more to the point, how do you get the most out of it?
My first response would be just go out and experiment. Who cares if your first photo and videos are hopeless. Learn by your mistakes and you will start picking up what works and what doesn't. That's what a hobby is all about.
So what if you need some assistance or guidance in starting up? Youtube is the most obvious choice. It sounds like a token response, but believe me when I say there is a goldmine of help on Youtube. You search what you are looking for, and you can prety much be assured that you will find it.
For example, searching for 'how to use gopro hero 3' brings up some great results on the first page – how to setup your GoPro for the first time, using timelapse, and some great mounting tips and tricks to name but a few. If looking at some of these videos are not enough to get your creative juices flowing, I don't know what is.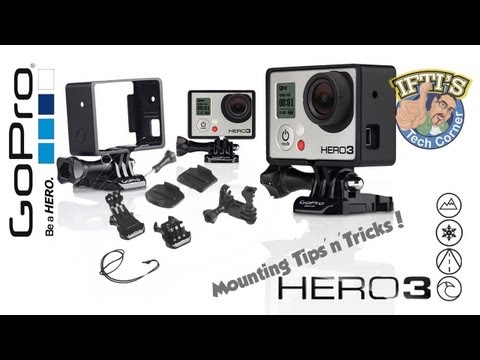 As I said earlier, go out and experiment. If I use myself as an example, when I first got my GoPro Hero2, I spent a heap of time at the beach taking as many stills and videos as I could. When I got home I would copy all of the contents of my memory card to my computer and see if I had any good content. It wasn't uncommon to have a couple of thousand still shots and only one or two of them being worthy of sharing with others.
I kept most of the shots so I could go back and look at them later, or even use them for other projects – you know a bit of copy / paste here and there.
In fact things haven't changed too much thse days. I still take a lot of footage, but I think my results are a bit better.
Recently I have noticed some awesome initiatives from some well known photographers in order to get more people interested in the hobby or sport of capturing action.
As I do have some interest in wave photography, I have been impressed with the likes of Clark Little, and locally here in Australia Willem Ungermann. Both photographers churn out some really great content, which I must admit I do envy the high quality.
Recently Willem conducted a beach day on the Gold Coast here in Australia, and so popular was the day another one is being planned, this time at Byron Bay. Check out and follow the instagram user @willems_beach_day for all the details. If you live local, this is the perfect opportunity to mix with others that have the same interests and find out more about this exciting new sport – especially as we are moving into spring and summer here in Australia.
Finally, check out this wave photo below that I captured with my Hero2. I just love the colours and the clear water of this impending wave breaking.
Oh, don't forget to follow me on Instagram too! – @sportingcameras

 Update 22nd October
For all you wave shooting fans in Australia, Willem's next beach day in on October 25, at 9am (NSW time). Location – Main Beach, Byron Bay Apex Park (look for the GoPro tents).
I would highly encourage you, if around the area, to go and spend some time and pick up some great tips, skills and maybe prizes.