Sony 4K Action Cam
The success of the GoPro is testament to the similar cameras that have been released – and the Sony 4K Action Cam is a great competitor in the action camera market.
As you can see from the picture above, the Sony 4K action cam looks like a miniature version of the 'handycam' that everyone used to have a few years ago – and probably still do in some way or another.
Overall they are larger than the GoPro, measuring 5 x 3.2 x 6.4 inches compared to the GoPro Hero4's  3.9 x 9.6 x 3.9 inch dimensions.
The Sony 4K (model FDR-X1000V/W) has some great features:
* 4K (3840 x 2160) video recording with up to 240p HD / 120p HD  – 4K, although a bit overkill for some now, will be an industry standard soon.
• SteadyShot(TM) image stabilization works from bikes to aerial shot and more – perfect for non jerky video
• Control up to 5 Action Cam via phone or LiveView(TM) Remote (Sold Separately) – scalability for you budding pros!
• Splash proof body with universal tripod mount – The count is what I love. I can use it with my SLR with needing an adaptor. The splash proof is handy also, but for underwater action, a housing is available
• Built-in stereo mic for quality sound with wind noise reduction
• Automatically creates highlight video in MP4 from multiple clips
• Loop recording prevents running out of memory card – such a simple yet very functional feature that can be advantageous in a lot of different sports.
If we were comparing the Sony 4K to the GoPro Hero4, one huge advantage is the built-in GPS. You can put accurate overlays on your videos (if you use Sony's editing software) that include things like your speed and even a map if you wish! It's something that GoPro will have to do with the next release – GoPro Hero5.
Check out this video on comparing the two action cams – it is 23 mins long but you don't need to watch it all to get a good idea of the comparison.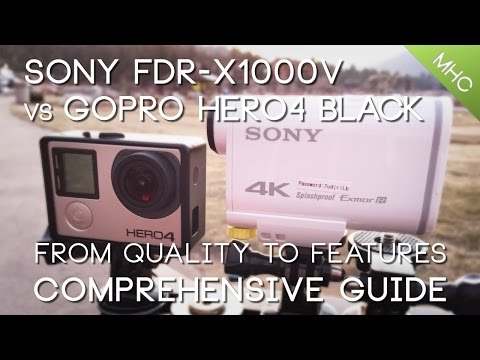 What are your thoughts on the Sony 4K Action Cam? Is it good enough to buy? If not, what would you buy instead. Leave A comment below.